fnctId=bbs,fnctNo=305
온라인 강의 연장 시행 안내 Extension of online lectures 网课延迟通知
온라인 강의 연장 시행 안내
Extesion of online lectures
网上授课延迟通知。
◾대상수업: 2020-1학기 수업
Target course : classes of 1st semester
课堂对象:2020学年1学期
◾ 수업기간 : 3.16. ~ 4. 17.
Period: 16, March to 17, April
上课期间:3.16---4.17
* 수업기간은 코로나19 확산 추이에 따라 변경될 수 있습니다.
The duration of the class may change depending on the situation of Korona19 spread.
上课时间也可能会因为新型冠状病毒的扩散而发生变动。
3. 참고사항 Notes 备注
수업에 따라 온라인 강의, 휴학 및 보강 계획, 레포트 대체 등 여러 유형이 있으므로 반드시 해당 과목의 알림사항을 확인하여야 함.
Each student has to check the notification for each subject on time. Because each department will have different supplementary class, replacement report, etc depends of types of classes.
因为有些科目的特殊性(考试,实验性科目等)无法在网上进行的,也可能会在学期内进行补讲。请同学们都查看上课上的通知
4. 온라인 수강 방법 및 공지사항 확인 방법
How to check notice
查看通知的办法
http://clc.chosun.ac.kr/ilos/main/main_form.acl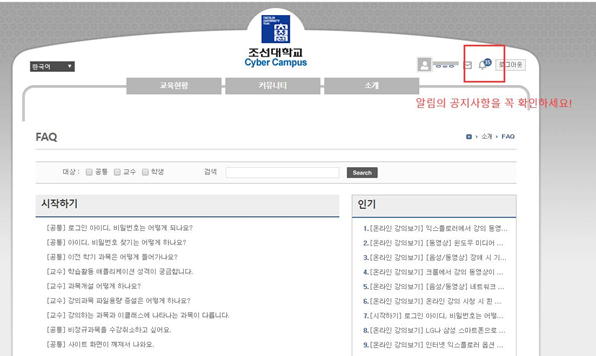 ◾사이버캠퍼스 링크: http://clc.chosun.ac.kr
◾첨부자료 : "사이버캠퍼스 학생 이용 매뉴얼"